Motorbike Safety Gear in Vietnam
Description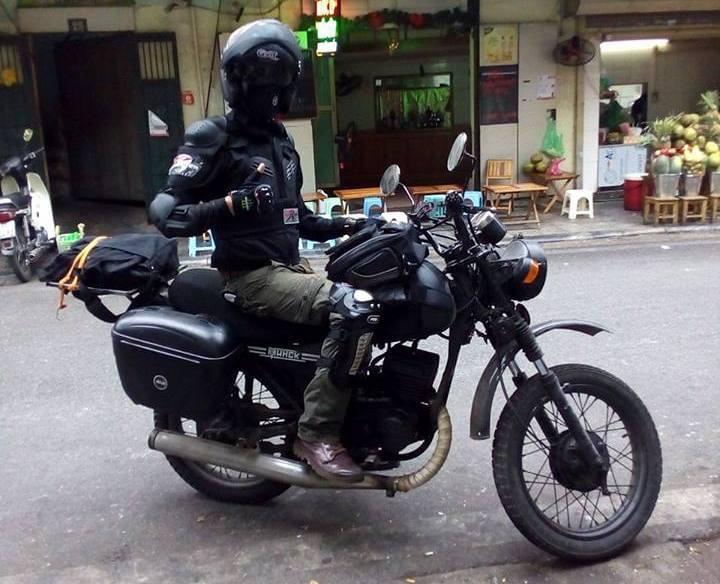 In Vietnam many people ride motorbikes without proper motorbike safety gear to the point where new riders think that this is normal yet you wouldn't ride back home like this so why would you do it here?
No one needs to be told the dangers involved in riding a motorbike especially in Vietnam but some new riders might not understand why some protection is so important in the event of an accident.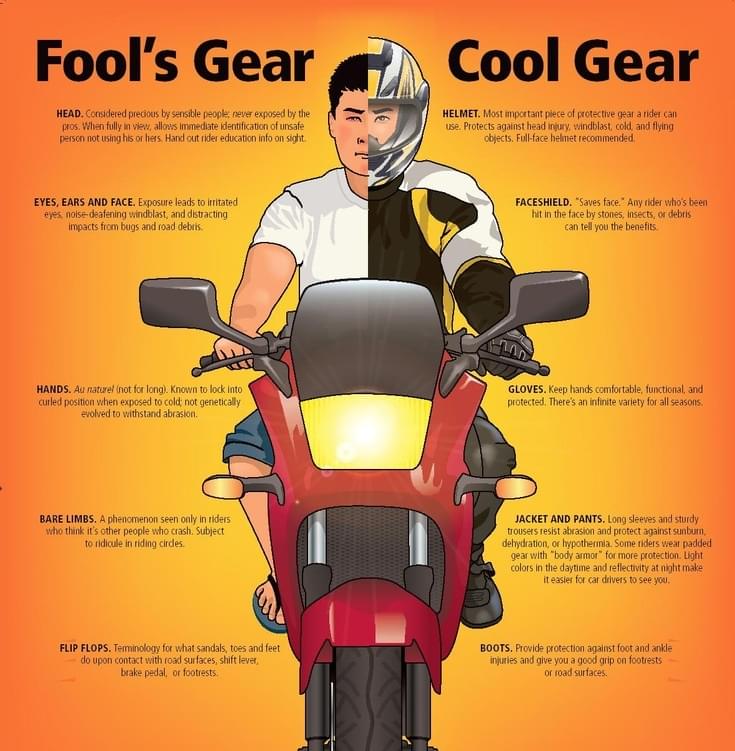 If you have a look below you will see what we recommend that you should wear.
HELMET
The helmet is the most obvious and important piece of safety gear.
In most countries you are required to wear a DOT approved helmet meaning that the helmet has been tested in a crash situation and has been proved to be safe. This is opposed to most of the helmets in Vietnam which have not been tested in crash situations and may not perform as well.
While in Vietnam DOT approved helmets are rarer and most locals don't wear them you can still find these. We sell HJC helmets, which is the #1 helmet manufacturer in the world, and many of these helmets are DOT approved or even SNELL approved, which is the highest approval rating.
Short Half Face
These are the basic local helmet that you will see often around the cities, it doesn't cover the ear, face or back of the head. While they don't offer any real protection, in the city traffic is much slower and this is the reason that people use that these helmets are okay. In reality in the city at some point you are likely to be traveling fast or someone else might be meaning that a crash can still be serious and this helmet will not help.
We strongly recommend never wearing these helmets as they are only good to stop the police fining you for not wearing a helmet!!!
Price – 50K – 100K / $2 – $5
Half Face Helmet
This is the next step up in Vietnamese style helmets. They have visors which are very important for the rain, dusk and debris from the road. These helmets also start to cover the ears but are usually soft material and still very thin helmets offering limited protection.
If you are just looking for a helmet for inside the city then this is much better than the short half face due to the visor but in the event of an accident it is still offering very little protection due to how thin the helmet actually is.
Open Face Helmet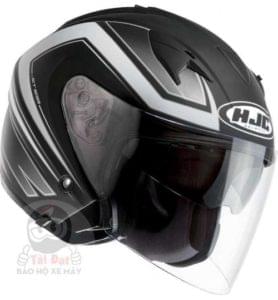 Open face is where you can start to see DOT approved helmets as well as cheaper made helmets offering proper protection.
Open face means that the back of the helmet and the sides come all the way down the face but there is no protection around the chin. These helmets usually come with a visor which is highly recommended and some even have a inbuilt sun visor which can be very beneficial with the amount of sun in Vietnam.
When testing these helmets and comparing a cheaper helmet to a DOT approved helmet you can clearly see the difference in the amount of protection and padding inside the helmet but you can also test out the helmet by pushing at the sides and front and back to see how much it flexes. These helmets will have some give but should bend too much.
While full face helmets do offer the best protection due to the heat in Vietnam a good open face helmet is often a good compromise of safety and comfort.
Price – 450K – 900K / $20 – $40 basic / 1,600K – 2,300K / $80 – $100 DOT approved
Full Face Helmet
Full face helmets are the most common helmet outside of Vietnam and there is a simple reason for this. They offer the best protection.
They cover all the head, have a visor against rain, dusk etc and can be built to a very high quality such as DOT approved HJC helmets.
In the event of an accident these are the helmets that you want to be wearing to minimise injury as they offer the most coverage. While in the heat these will be less comfortable if you want to safe then these are the helmets you should be wearing.
Similar to the open face helmets you can see the difference in quality between the cheaper and more expensive helmets and pushing at the sides will show you how much flex they have, while all helmets will move abit the cheaper ones will more much more.
The best brand you can best in Vietnam is generally HJC which come with both DOT or SNELL approvals. Comparing these to the cheaper helmets will give you idea about why they are more expensive.
Price – 680K – 1,000K / $30 – $50 Basic – 1,000K – 5,000K / $50 – $220 DOT approved
You can see all the helmets we have available on the link below.
HELMET SIZES AND BUYING USED
In Vietnam you often we people using old helmets which if you talk to any experienced rider will tell you is a good idea. If you don't know has happened to the helmet then you shouldn't trust it. You will never know if the inside is still okay and after a fall from 1m the inside can all broken.
In terms of sizes the helmet should be tight on the side of your face without being uncomfortable. There shouldn't be any room to fit your fingers in the side of the helmet or a gap between you temple and the helmet. Your nose shouldn't touch the front of helmet or visor.
A helmet that doesn't fit correctly isn't safe and will not offer proper protection so it is very important to find the right fit.
GLOVES
Gloves are one of the most important parts of safety gear simply because if you have an accident then you will instinctively put out your hands and the gloves will take the majority of the first hit. On top of this they offer protection from the weather (sun and cold) and from the constant vibration of the bike.
All of our gloves have thick protection on the knuckles and palms as we as small protection on the fingers and back of the hand.
There is 2 different types, fingerless and full finger, and 3 different styles offering slightly different protection and comfort.
Prices – 225K – 400K / $10 – $18
You can see all the gloves we have available on the link below.
BODY PROTECTION
The level of body protection is where you see the biggest difference between other countries and Vietnam and it is the hard part of the safety gear to justify to customers and yourself.
Obviously in the event of an accident having full leathers would be the best thing but due to the heat and the speeds in Vietnam it is unrealistic that everyone will be wearing this but that doesn't mean that you shouldn't wear anything.
The alternatives that we offer are 2 different types of protection.
The first one is a mesh motorbike jacket with inbuilt in chest, elbow and shoulder pads as well as a spinal support. As this is made from a mesh material is allows for air flow and keeps you cool while riding which is important as if you become too hot you will simply not wear the jacket. This is a great compromise between comfort and safety and can easily safe you from injury.
Price – 800K / $35
The second type of protection is arm and leg protection. Along with wearing gloves this covers the most common parts of the body that get injured in Vietnam, the knees, elbows and hands, while not covering too much of the body so that you are not too hot or uncomfortable.
We offer 2 styles, one is hardened plastic which is the lighter and cheaper, and the other is as the picture above with a thin metal offering better protection.
Price – 340K – 570K / $15 – $25
Below is a link to all the body protection that we sell.