Description
CRF 300L Rental Prices
Per Day – $60 Perday
Per Week - $55 Perday
Per Month – $45 Perday

Extra Service:
insurance for damage repair = 85 Usd per week
Intercom: Extra 20 Usd
Motorcycle Saddle Box Side: Extra 25 USD
Gopro Dash Camera: Extra10 Usd
Boots Motorcycle size 41-43: Extra 15 Usd
Adventure Gear: Extra 10 Usd
One Way Rental Service
(
return the bike in south + Extra $80 )
(
return the bike in Da Nang + Extra $100)
(return the bike in Hà Giang + Extra $85)
DEPOSIT
Passport or $5000
prices are included:
- 2 helmet,
- Raincoat,
- rope,
- phone holder
- luggage rack.
-tubes/inner and basic tools,
-security lock and a map,
Roadside assistance, servicing & maintenance
Contact me if you need more information:
Mr David :+84936345123 ( messenger, Zalo, WhatsApp ).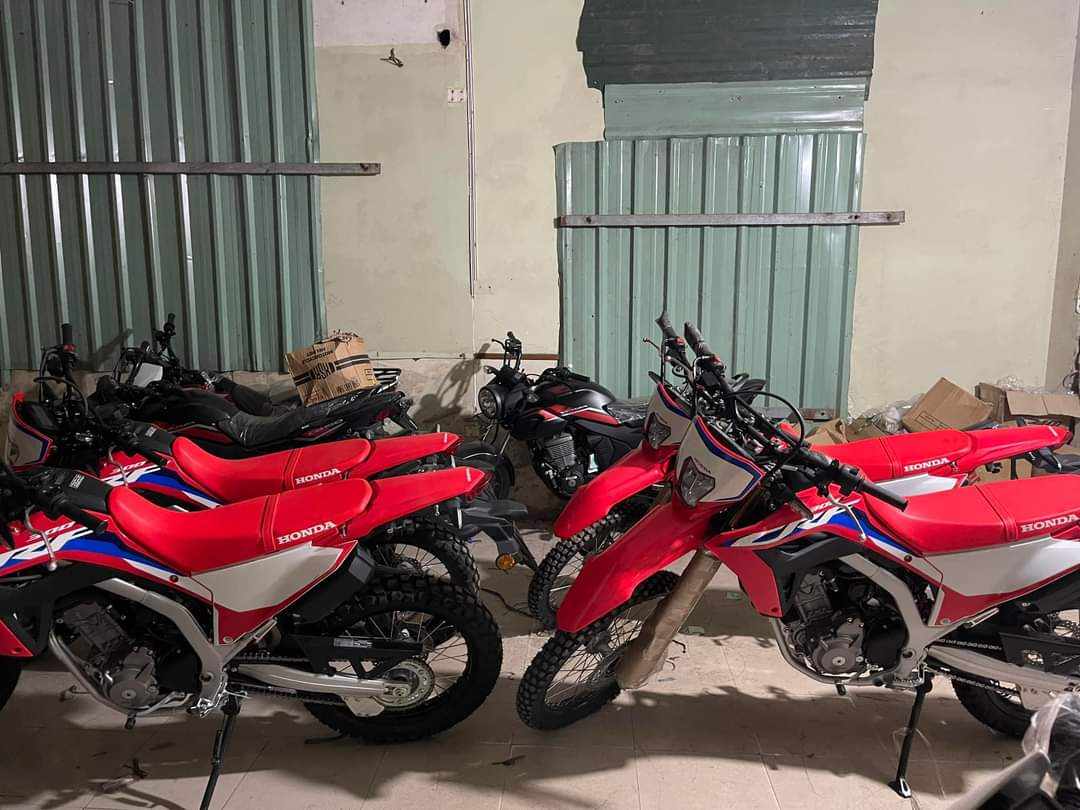 Renting a Honda CRF300L off-road motorcycle can be an exciting and practical choice for travelers who want to explore diverse terrains and enjoy an adventurous journey. Here are several reasons why you should consider renting a CRF300L for your off-road travel:
Versatile Terrain Capability: The Honda CRF300L is designed for off-road adventures, making it an ideal choice for travelers looking to explore various terrains such as dirt trails, gravel roads, rocky paths, and more. Its robust suspension and off-road tires provide stability and control, ensuring a safe and enjoyable ride.

Lightweight and Maneuverable: The CRF300L is relatively lightweight, making it easy to handle, even for riders with limited off-road experience. Its nimble design allows you to navigate through tight spaces and challenging terrain with ease.

Adventure-Ready Features: This motorcycle comes equipped with features designed for adventure, including a comfortable seat, long-travel suspension, and a powerful engine that provides both efficiency and performance. These features contribute to a more comfortable and enjoyable off-road experience.

Fuel Efficiency: The CRF300L is known for its fuel efficiency, which is crucial for long-distance off-road travel. With a smaller, more efficient engine, you can cover more ground without constantly worrying about refueling.

Rental Availability: Many rental companies offer the Honda CRF300L, making it accessible to travelers worldwide. Renting a motorcycle eliminates the need for shipping or transporting your own bike to your destination, saving you time and money.

Cost-Effective Adventure: Renting a motorcycle is often more cost-effective than purchasing and maintaining your own. You won't have to worry about maintenance, insurance, or storage costs when you rent, making it a budget-friendly option for your off-road adventures.

Local Experience: Riding an off-road motorcycle allows you to immerse yourself in the local culture and environment. You can explore remote areas and access viewpoints that may be inaccessible by other means of transportation, providing a unique travel experience.

Freedom and Flexibility: Riding a motorcycle offers a sense of freedom and flexibility that few other modes of transportation can match. You can plan your own itinerary, stop wherever you want, and take detours to discover hidden gems along the way.

Thrilling Adventure: Off-road riding on a CRF300L can be an exhilarating experience, filled with adrenaline and excitement. It's an excellent choice for adventure enthusiasts who crave challenges and thrills during their travels.

Bond with Fellow Travelers: Riding a motorcycle can be a social experience, allowing you to bond with fellow travelers who share your passion for adventure. You can join group rides or connect with other riders at popular off-road destinations.
Before renting a Honda CRF300L or any off-road motorcycle, be sure to check your destination's regulations and requirements for motorcycle rentals, including licensing, insurance, and safety gear. Also, consider your own riding skills and experience, and take appropriate safety precautions to ensure a safe and enjoyable off-road adventure.